Low-Cost, Full Color, Custom Printed Display Materials - Perfect for Convention Artists & Vendors!
Are you a convention artist or vendor? Do you need affordable display items and signage? You've come to the right place!

I have over 10 years of experience in the graphic design and print business. After 6 years of vending in the convention circuit, I noticed a lack of low-cost/high-quality large-format printing sources for independent artists & freelancers.

I'm proud to be able to offer printing services (banners, display boards, and more) for fellow artists -- at prices that won't break the bank!

Every order gets a free file-check and production proof.
Fast turnarounds of 7-9 days or less after production proofs are approved!

F.A.Q.
Frequently Asked Questions About Printing with Rewynd Printing
File Setup
✦ WHERE DO I SEND MY FILE?
After your purchase is complete, send print-ready files to [email protected]
(Please reference your order number in the email if you've already placed an order.)
✦ MY FILE IS TOO BIG TO EMAIL - HOW DO I SEND IT?
You can email a link to your file on GoogleDrive, DropBox, or send it via WeTransfer!
✦ DO YOU HAVE ANY TEMPLATES?
http://templates.rewynd.net
If there are templates provided, please use them for files you send to me.
Make sure to hide any layers marked as "Hide" before exporting as a PDF or JPG.

Not all products require templates - if there is no template provided, create your file to your final items dimensions.
✦ WHAT FILE TYPES DO YOU ACCEPT?
All files should be emailed to me to size. CMYK color space. And at 150-300 DPI.
Preferred File Types are PDF or JPG. I will accept PSDs and AIs.

Do NOT add Bleed or Crop marks to any of your files.
Do NOT send me PNG files as they are only RGB and will not print as you intend.
✦ MY COMPUTER CAN'T HANDLE THIS BIG FILE?!
Sometimes a file is just too large to handle at 300dpi. It is okay to lower the DPI down to 250, 200, or even 150dpi.
150dpi is the absolute minimum!
You can also try compressing the file in a program like SmallPDF
✦ WHAT DOES PRINT-READY MEAN?
I do not offer design services, so any submitted file MUST be full designs - formatted to the size and dimensions of your purchased items.
Files must be ready to print!
---
Turnaround Time & Shipping
✦ WHAT IS A DIGITAL PROOF?
Once I receive design files, I will check files and send you a digital production proof. The proof gives you and I an idea of what to expect in the final product and makes sure we both understand what to expect in terms of size, color, quantity, and material.

Expect to receive the proof 1-4 business days after submitting the file to me. (Turnaround time on proofs heavily depends on my workload.)

NO item will be moved into production without an approved production proof. Delays in approving your proof will result in production delays.

By approving the proof, you agree that all spelling, imagery, design, and all other appearances of your product appear as you intend and you release RewyndPrinting from any and all liability or responsibility for errors or mistakes shown in the proof.
✦ HOW LONG DOES IT TAKE?
Your digital proof will typically take about 1 day but may take up to 4 business days, depending on my workload. Weekends, holidays, and conventions may affect this turnaround time too.
Once you approve your production proof, you will have your item in about 7-9 days.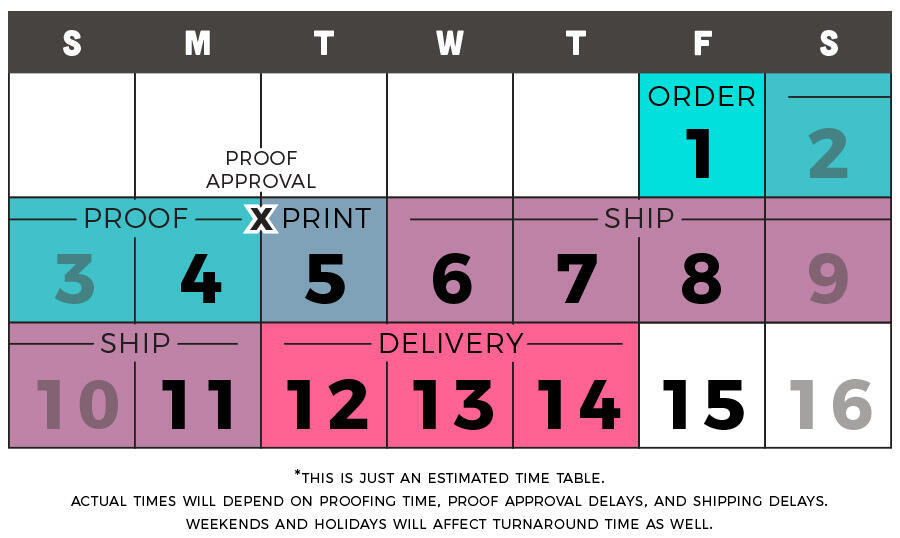 ✦ I NEED A RUSH JOB!?
I can offer faster shipping options, so please contact me ahead of time if you're concerned about getting an item in time for a specific event. The fastest turnaround is about 4 business days - so the sooner you contact me, the better.
✦ CAN I PICK MY ORDER UP AT _____CON?
I don't do a lot of shows, so there is a limit to how many shows I can offer pick-ups at.

Please refer to my list of upcoming shows to see what shows I can offer pick-up at. Or refer to the Facebook page as I'll post cut-off times for popular shows and whether or not pick-up will be available.
✦ DO YOU SHIP INTERNATIONALLY?
I currently have the shop set to Domestic-US shipping only. Until I work out a more affordable shipping option, I will only do international orders by request. Please send me a email and I'll help you out!
---
Print Information
✦ DO YOU PRINT TO THE EDGE?
Yes!!
All printed materials are full color and printed to the edge.
Whatever color the background is in your file, make sure to extend it all the way to the edge.

This also means you can have patterned or gradient backgrounds.
✦ DO YOU OFFER CUSTOM SIZES?
Many items (Banners, table runners, and rigid signage) can be offered in custom sizes!

Contact me for a quote on custom-sized items!
Custom sizes must be in whole-inch intervals. (No .25in, .5in, etc)
There is no extra charge for a custom size - all prices are determined based on square footage.

There are size limitations to each product time, however.
✦ WILL MY ITEM FADE IN THE SUN?
The print on all the materials is UV safe and won't fade.
---
Material information & Sample Packs
✦ WILL THE TABLECLOTHS FIT ___ft TABLE?
Keep in mind that there are no standard table sizes at convention centers.

Table heights, widths, and depths vary from place to place.
The cloths I offer fit nicely on 6ft or 8ft tables that are about 24in deep and 28in tall.
✦ WHAT THE HECK IS COROPLAST?
Coroplast (corrugated cardboard) is a sturdy, but hollow plastic material with inside support structures like cardboard. The outside does have a subtle texture (will sort of look like stripes when you move it in the light) due to the structure of the material; the lines you'd see are where the connecting pieces inside are.
✦ WHAT IS THE DIFFERENCE BETWEEN GATORBOARD AND FOAMCORE?
Foamcore is a 4.8mm (1/4in) thick Paper-faced foam board.

Gatorboard is 4.8mm (1/4in) or 12.7mm (1/2in) thick Wood-Veneer-faced foam board. It is similar to foamcore but has added strength due to the veneer on the outside instead of paper like foamcore. Available in white or black foam interior.
✦ DO YOU OFFER SAMPLE PACKS?
Sometimes it's hard to understand what to expect from printed materials if you've never used them before.
Each sample pack includes printed samples of seven popular material types. Each ships FREE anywhere in the US!

Now available in our shop: here!
✦ WHY DO I HAVE TO PAY FOR SAMPLE PACKS?
As much as I'd love to offer these packs for free, I simply cannot.

(Please remember, I am a small business. The shipping price is included in the cost of the packs - but I also hand cut all the samples and pack them myself. Not to mention, I work with a mom & pop shop to do my printing, so I have to pay them to run the machinery and use their materials.)
---
other questions
✦ CAN I GET A DISCOUNT IF I ORDER MULTIPLE ITEMS?
As an artist myself, I know how hard it is to put aside funds for your display.

I am proud to be able to offer my services at the best price possible - that won't break the bank!

I offer these prices as low as I can possibly go so I cannot offer discounts.
✦ DO YOU OFFER DESIGN SERVICES?
In the future, I may offer some limited design services.

At this time, I am not offering custom design services.
---
Have another question?